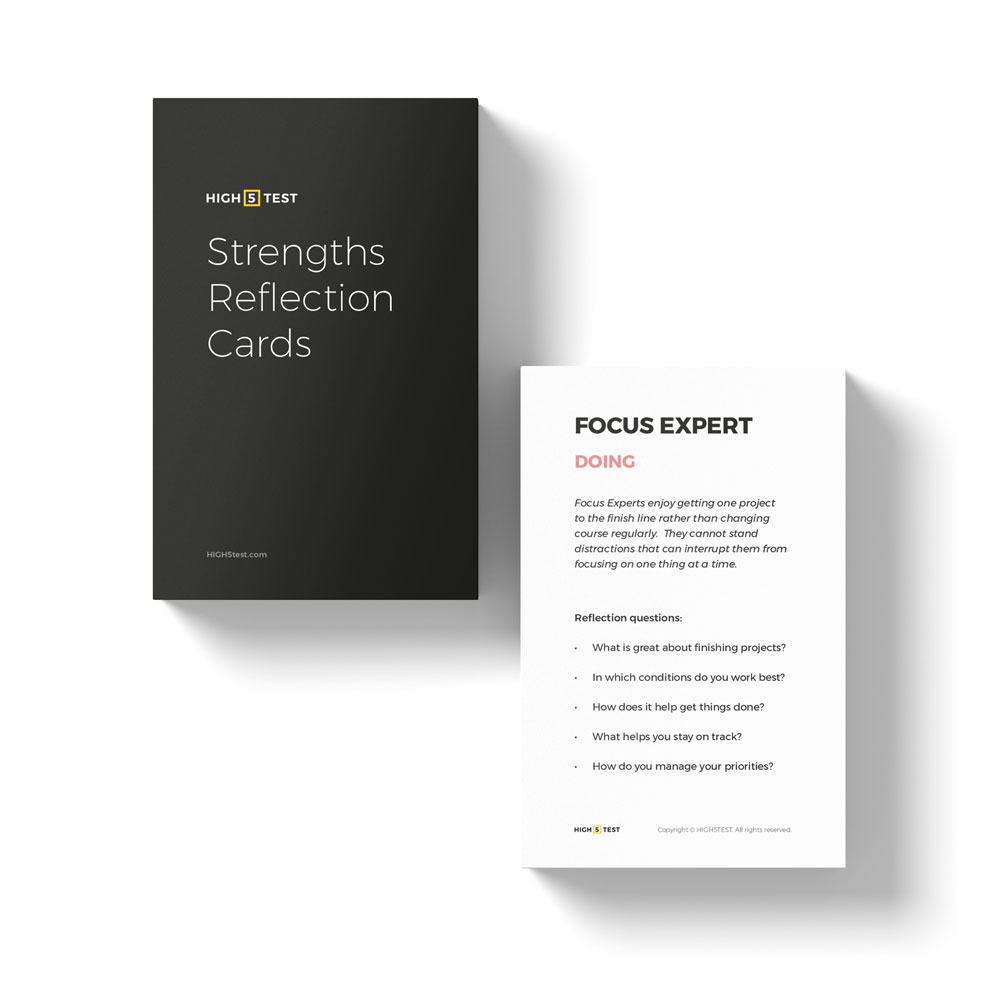 Strength Cards: Identify, Understand & Leverage Personal Strengths
This set of strength cards is designed to help you reflect on what your strengths are, how they manifest in your everyday life, and how to bring out the best of them.
What Are The Strength Cards?
The strength cards are valuable tools for reflecting on your personal strengths so you can identify and leverage them.
HIGH5 Strength Cards are an essential resource for anyone practicing the strengths-based approach.
Research shows that more than 75% of people struggle to name their strengths. Even if you have worked with your strengths for decades, this set of Strengths Photo and Image Cards will challenge you to look at your strengths from a fresh perspective.
They will initiate meaningful conversations in any setting – whether it is with your partner at home or with your colleagues at work.
Key Benefits of the Strength Cards:
Understand the link between your strengths and everyday situations;
Expand your knowledge of all 20 strengths discovered and identified by the HIGH5 test;
Facilitate strengths-based meetings, conversations, trainings, and workshops.
Examples of Frequent Use Cases of the Strength Cards:
Some of the practical and real-life applications of the strength cards are:
A coach wishing to have a one-on-one self-improvement session with a team member;
A coach who wants to develop a new strengths-based growth plan for their team;
A coach interested in educating their team on the basics of strengths-based work;
A manager wanting to increase mutual understanding and respect between team members:
A teacher trying to help their students find their unique strengths.
A person who is looking for self-reflection.
A person who wants to understand and leverage their personal strengths.
What are the applications of the strength cards?
Using strength cards is a much more accessible way to help an individual think about the strengths they currently have and the ones they have yet to develop. Visual accessibility allows people to easily channel their inner powers and to also discover, why they need to do that at this point in their lives.
They can also serve as a great reminder of our positive sides and thus generate good energy.
Therapists often encourage their patients to carry their strength cards with them, so they will be reminded of their positive qualities in time of need. This will also help them realize their potential in more difficult situations.
The coaching cards approach can be used in relationships and family counseling, where the emphasis is on understanding each other. By using psychology cards, it becomes easier to understand each other, both in the relationship and in the family.
With this, the connection between family members as well as between couples can be effectively improved.
Strength cards can also be a great self-development tool. By using coaching picture cards, individuals can write down a list of personal strengths they would like to develop.
By doing so, people often expand their horizons, which enables them to start designing a plan on how they can achieve their goals for the future.
When a career coach uses the "strength cards" approach, they often want to help individuals understand how their actions or way of thinking negatively impacts their career path.
It often is a way to help people understand that by developing some personal strengths and expanding their own character awareness, they can get on the right path and thus increase their productivity and advance their careers.
Studies have shown that people are satisfied with the "strength cards" method, especially in the process of bettering their self-perception.
Do you have a digital version of strengths card set?
When will I get my order confirmed?
Immediately after we receive your payment, your order will be confirmed through an email. After your order is shipped, we will send you a tracking code. Processing time may take up to two days. If after two days you still do not here back from us, feel free to contact us here.
How are shipping costs determined?
Shipping prices are determined by a number of factors, such as recipient location, dimensions of the package, and package weight. Orders are always shipped with official mail providers. The mailing service providers set the shipping rates, and they can fluctuate.
When will I receive my order?
Delivery time depends on several factors, such as the country your order is sent to. Throughout the delivery process, you will have access to a tracking code and updates on your order. Most orders are shipped in around 14 days. Supply chains around the globe are being overflown due to the COVID pandemic, so your order may take longer. We sincerely apologize for any inconvenience and thank you for your understanding.
Do you accept order returns?
Yes, you have up to 30 days to return any physical items. However, only new and unused items will be accepted for returns. If you would like to return an item, please contact us here to receive approval. If you do not attain approval, your return will not be processed.
How can I cancel my order?
As soon as you order, the team immediately starts the fulfillment process. However, if your order has not yet been processed, you may reach out to our team here. Please keep in mind that if an order has already begun to be processed, refunds and cancellations are not possible.
I have another concern. How do I reach out to the support team?
You can send any questions or concerns to our team here. We will assign a relevant team member to process your request and get back to you as quickly as possible.