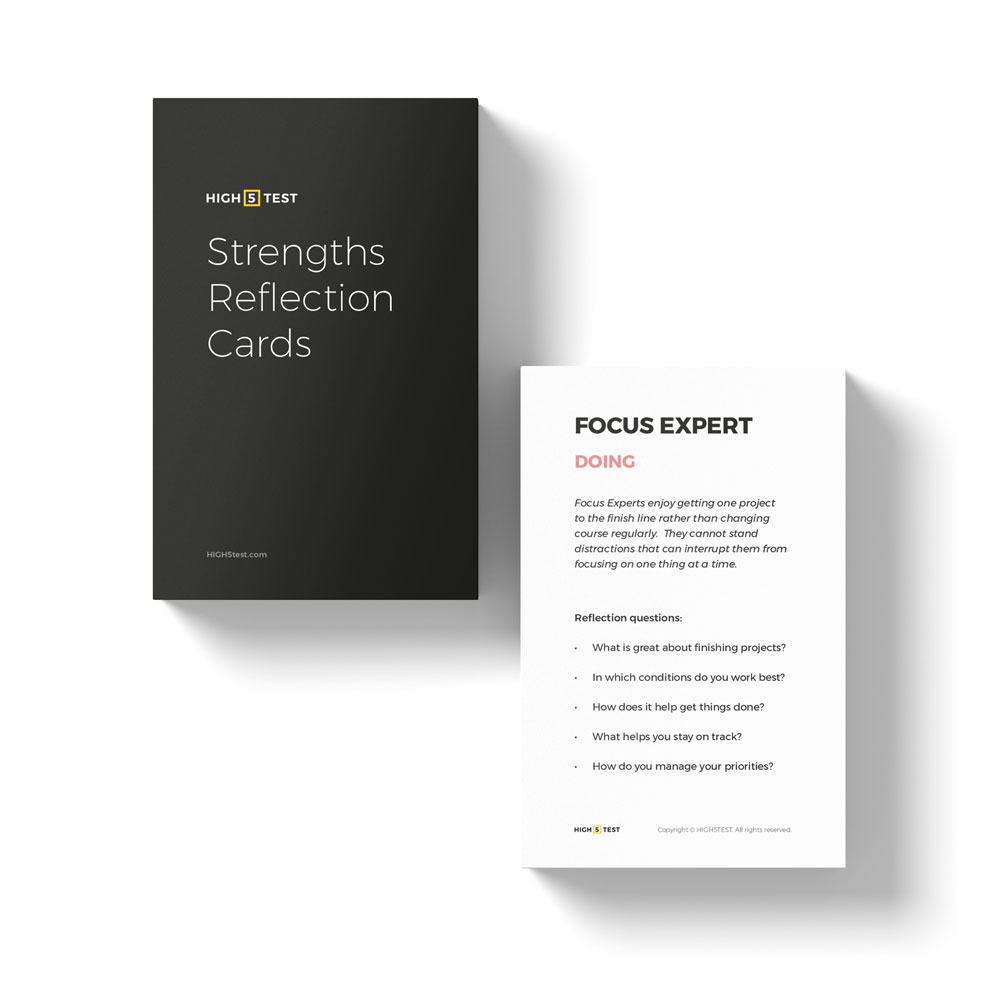 Strengths Cards Set for Therapists and Coaches: Reflect on Your Strengths
This set of Strengths Cards is designed to help you reflect on what your strengths are, how they manifest in your everyday life, and how to bring out the best of them.
What are the Strengths Cards?
HIGH5 Strengths Cards are an essential resource for anyone practicing the strengths-based approach.
Research shows that more than 75% of people struggle to name their strengths. Even if you have worked with your strengths for decades, this set of Strengths Photo and Image Cards will challenge you to look at your strengths from a fresh perspective.
They will initiate meaningful conversations in any setting – whether it is with your partner at home or with your colleagues at work.
Key benefits of the Card Set:
Understand the link between your strengths and everyday situations;
Deepen your knowledge of all 20 strengths identified by the HIGH5 test;
Facilitate strengths-based meetings, conversations, trainings, and workshops.
Examples of frequent use cases:
A coach who would like to help their client to reflect on their strengths;
A coach who would like to run a strengths session with a team / organization;
A manager who would like to introduce the team to the strengths approach;
A manager who would like to make the team members more aware of each other;
An educator who would like to help their students to reflect on their strengths.
Frequently Asked Questions​
What are the applications of Strengths Cards?
Using strength cards is a much more accessible way to help an individual think about the strengths they currently have and the ones they have yet to develop. Visual accessibility allows people to easily channel their inner powers and to also discover, why they need to do that at this point in their lives.
They can also serve as a great reminder of our positive sides and thus generate good energy.
Therapists often encourage their patients to carry their strength cards with them, so they will be reminded of their positive qualities in time of need. This will also help them realize their potential in more difficult situations.
The coaching cards approach can be used in relationships and family counseling, where the emphasis is on understanding each other. By using psychology cards, it becomes easier to understand each other, both in the relationship and in the family.
With this, the connection between family members as well as between couples can be effectively improved.
Strength cards can also be a great self-development tool. By using coaching picture cards, individuals can write down a list of personal strengths they would like to develop.
By doing so, people often expand their horizons, which enables them to start designing a plan on how they can achieve their goals for the future.
When a career coach uses the "strength cards" approach, they often want to help individuals understand how their actions or way of thinking negatively impacts their career path.
It often is a way to help people understand that by developing some personal strengths and expanding their own character awareness, they can get on the right path and thus increase their productivity and advance their careers.
Studies have shown that people are satisfied with the "strength cards" method, especially in the process of bettering their self-perception.
Is it available in the digital format?
No, for private clients, the materials is only available in the paperback format.
When will I receive an order confirmation?
The confirmation will be sent to your email address immediately after your payment goes through. After your order is shipped, your order will be updated with the tracking code. Please allow up to 2 business days for the processing time. If you didn't hear from us until then and you have checked all folders in your mailbox, please send us a message here.
How do you determine shipping costs?
The shipping costs depend on the size and weight of your order as well as the country you're ordering to. All orders are shipped with the registered mail. Hence, the shipping rates are specified directly by the mailing service provider.
When will I received my order?
The delivery time depends on the country you send your order to. You will be provided a tracking code to see where your package is located throughout the delivery journey. The average shipping time at the moment is around 14 days. Please note that the current global pandemic has a negative effect on the international delivery schedules, which means that any order can take significantly longer to arrive. We thank you for your patience and understanding.
Sure, physical products can be returned within 30 days from placing you order. Please note that only new and unused products in their original packaging are eligible for returns. To initiate the return, please contact us here to get it approved. Returns without approval will not be processed.
How do I cancel an order?
The fulfillment process starts immediately after receiving your order. If your order has not been sent to processing yet, you may cancel your order by contacting us here. However, please understand that if the processing has started, orders may not be canceled.
I have a different question, how do I contact the support team?
Please feel free to submit your inquiry or support request via the contact form here. A relevant team member will contact back to assist you in the process.