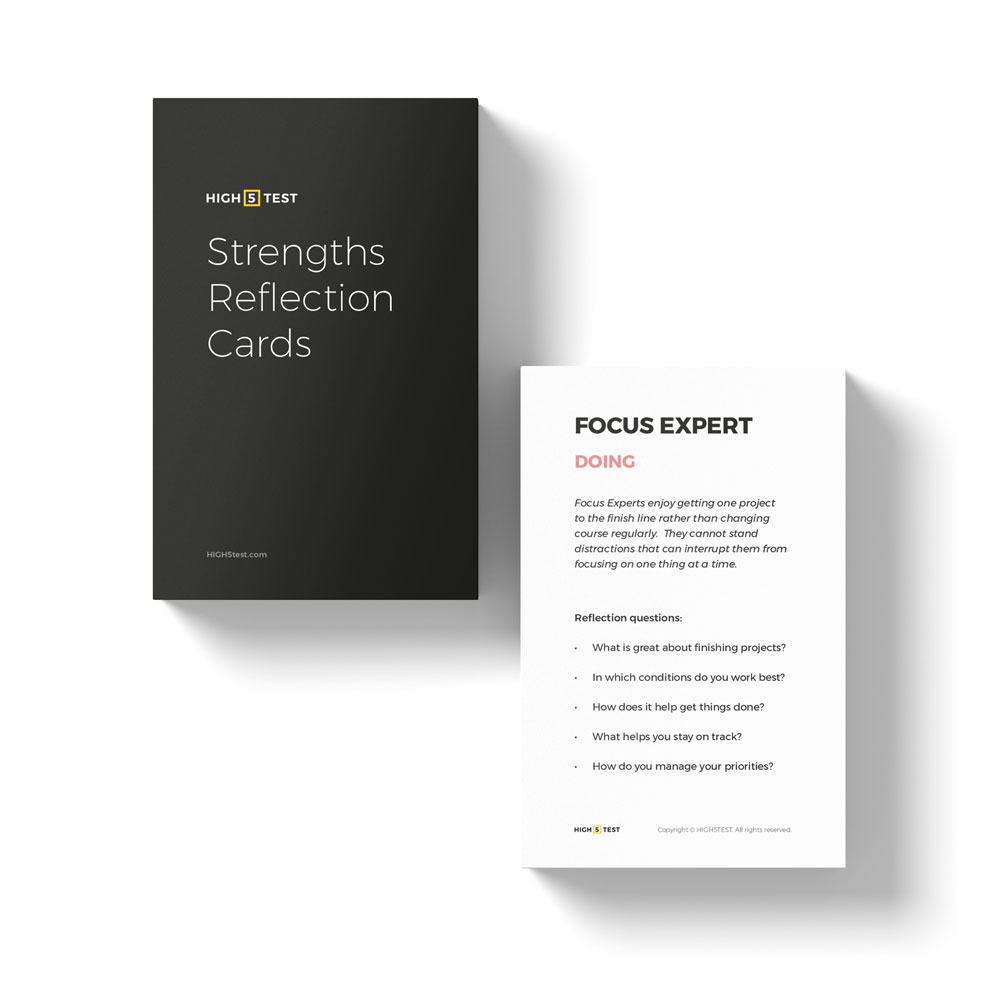 Set of Strengths Reflection Cards
This set of Strengths Reflection Cards is designed to help you learn to deepen the knowledge of your strengths through reflection and interactive activities.
What are the Strengths Reflection Cards?
Whether you use it yourself, with your team, or with your clients, HIGH5 Strengths Reflection Cards are a versatile learning tool for personal and professional development.
With short descriptions of all 20 HIGH5 strengths, this card set helps you dig deeper into each of them and how they enable you to make better decisions, achieve better results, and build better relationships.
The Strengths Reflection Cards will serve you as a great reminder of your strengths and the way they can help you address daily challenges. They will be particularly impactful when you work with someone who has strengths completely different from yours to form truly complementary partnerships.
Key benefits of the Card Set:
Deepen your knowledge of all 20 strengths identified by the HIGH5 test;
Facilitate strengths-based meetings, conversations, trainings, and workshops;
Build the link between real-life situations and your strengths.
Examples of frequent use cases:
A coach who would like to display the client's strengths dynamically;
A coach who would like to run a strengths session with a team / organization;
A manager who would like to introduce the team to the strengths approach;
A manager who would like to make the team members more aware of each other;
An educator who would like to help their students to reflect on their strengths.
Frequently Asked Questions​
What is inside the set of Strengths Reflection Cards?
This set consists of 22 cards printed in handy size on the high-quality hard stock and shipped in a resealable clear plastic bag. Two cards in the set contain activity recommendations and corresponding instructions – 5 activities for individuals and 5 activities for groups. The rest of the cards correspond to each of the HIGH5 strengths, where every card contains: strengths name; brief strengths description; attribution of strengths to corresponding strengths domains; 5 reflection questions personalized for the specific strength.
What are the specifications of each set?
Format: Paperback
Delivery method: Registered mail
Cards in the set: 22
Language: English
Dimensions: 90 x 145 mm or 3.5 x 5.7 inch
Do I have to take the HIGH5 test to use this Strengths Reference Sheet?
No, it is not necessary. However, it is important to understand that it is not a substitution of the strengths assessment, but a resource that facilitates a deeper understanding of the strengths-based approach.
Is it available in the digital format?
No, for private clients, the HIGH5 Strengths Reflection Cards are only available in the paperback format.
When will I receive an order confirmation?
The confirmation will be sent to your email address immediately after your payment goes through. After your order is shipped, your order will be updated with the tracking code. Please allow up to 2 business days for the processing time. If you didn't hear from us until then and you have checked all folders in your mailbox, please send us a message here.
How do you determine shipping costs?
The shipping costs depend on the size and weight of your order as well as the country you're ordering to. All orders are shipped with the registered mail. Hence, the shipping rates are specified directly by the mailing service provider.
When will I received my order?
The delivery time depends on the country you send your order to. You will be provided a tracking code to see where your package is located throughout the delivery journey. The average shipping time at the moment is around 14 days. Please note that the current global pandemic has a negative effect on the international delivery schedules, which means that any order can take significantly longer to arrive. We thank you for your patience and understanding.
Sure, physical products can be returned within 30 days from placing you order. Please note that only new and unused products in their original packaging are eligible for returns. To initiate the return, please contact us here to get it approved. Returns without approval will not be processed.
How do I cancel an order?
The fulfillment process starts immediately after receiving your order. If your order has not been sent to processing yet, you may cancel your order by contacting us here. However, please understand that if the processing has started, orders may not be canceled.
I have a different question, how do I contact the support team?
Please feel free to submit your inquiry or support request via the contact form here. A relevant team member will contact back to assist you in the process.