Presentation Skills: Definition, How to Improve & Examples
Transferring your message to the audience requires particular presentation skills. If you tend to organize information in a clear manner, maintain eye contact, provide audience participation, or answer unexpected questions, then you probably understand the techniques of having an enthusiastic speech.
However, sometimes we can't engage the audience, poorly organize the information, or feel too shy to present information clearly. Fortunately, speaking in front of people is a learned skill and not a personality trait or inborn ability.
Every single professional public speaker was inexperienced in the beginning. Therefore, presentation skills can be improved. Although improving your presentation skills does require plenty of time and energy, the outcome is definitely worth it. Why? Because the way you present the information is no less important than the content you're presenting itself.
In this article, we will discuss why it's important to develop presentation skills and provide some tips to help you refine your speech to perfection. We'll review various types of presentations, offer examples of good presentation skills, and discuss things you shouldn't do to avoid failures during presentations.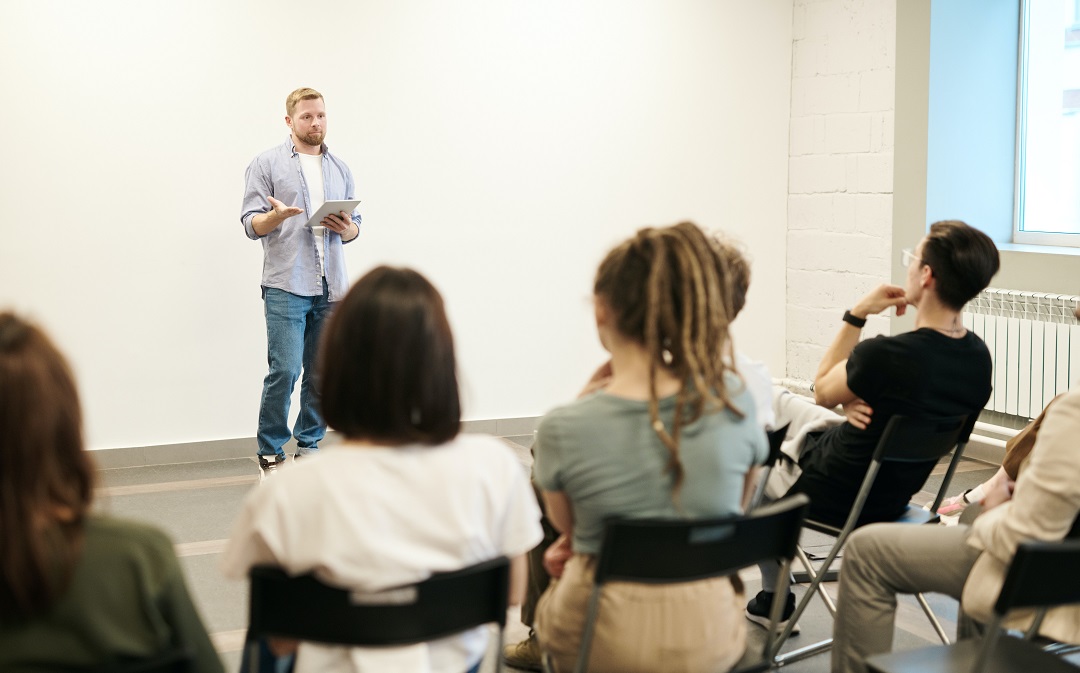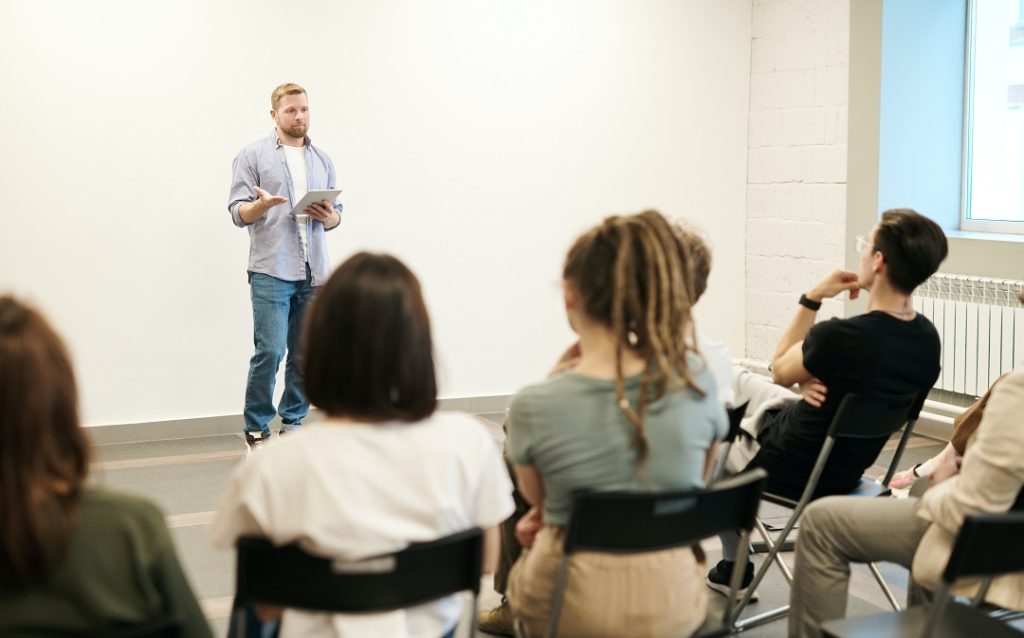 What is a Presentation Skill? Definition
Presentation skills can be defined as the abilities that people use to deliver information to different kinds of audiences in an effective and engaging manner. Presentation skills involve organizing your time, using body language, choosing the proper presentation material, answering event attendees' questions, and providing audience participation.
The purpose of presentation skills is to help people deliver their message to the audience. Great presentation skills are one of the most worthwhile abilities in modern workplace culture. The reason is that presentations are an integral part of today's work ethic. Consequently, they have a great impact on job performance, employee satisfaction, and work engagement.
Aside from organizations, presentations are also very common for high school, college, or university students. Often, students are afraid of speaking publicly and think that they don't have the proper abilities to present the information. Regardless of the reason for public speaking-related anxiety, presentation skills can be improved (Raja, 2017).
Why is it Important to Develop & Improve Presentation Skills?
Why do we need presentation skills? It's an age-old question that's been answered a thousand times. The answers are usually focused on the ability to have great communication, share ideas with the audience, and get insights from them.
Presentation skills also help people to answer complex questions without spending extra time and inspire the audience by teaching new skills, sharing information, or even selling a product. What is more interesting is the answer to the question of why we need to improve our presentation skills. Or how can we develop presentation skills? While extraverted speakers have no trouble speaking publicly, introverted speakers often find it hard to communicate with the audience.
As a result, they end up having poor speeches, people don't listen to them, and consequently, their self-esteem decreases (Tuovinen et al., 2020). On the other hand, improving presentation skills helps people become more confident in themselves and develop the skills of an eloquent speaker.
The advantages of improving presentation skills can be seen in a variety of fields, including marketing, entrepreneurship, management, finances, schools, and colleges. Enhancing presentation skills helps people focus on their speech patterns and improve their overall self-image in society. And positive self-image is indeed a key to success either in business or in everyday life.
That said, here are some of the main reasons why it's important to enhance presentation skills:
You will improve your time management skills.
You'll learn to connect with an audience.
You'll communicate better with people in general.
You will gain self-confidence.
You'll avoid miscommunication and reduce stress.
Good Presentation Skills: List with 15 Examples
Visual Communication
Interpersonal Communication
Verbal Communication
Humor
Storytelling
Attracting the audience
Keeping things simple
Using body language
Managing emotions
Self-awareness
Leadership
Focus on the audience
Active listening
Time organization
Doing research
Visual information is the first thing that forms the audience's impression. Good presentations include effective and influential slides. Your presentation should not contain more than 100-word text slides.
Interpersonal Communication
Giving a good presentation is unimaginable without building a rapport with the audience. Effective interpersonal communication means convincing each member of the audience that you're speaking directly to them.
Speaking in a clear and confident way is key to delivering your message to the audience. Verbal communication is the most obvious part of our communication and plays a major role in presentation as well.
Using humor is an effective way to engage the audience during a presentation. Including a few light-hearted slides can be a great idea to increase your audience's mood.
Storytelling means the ability to tell an inspiring story, which is important presentation skill.
To inspire your audience, you need to attract them in the first place. A great balance between verbal and non-verbal communication, as well as engaging visual materials, lead presenters to attract the audience.
Sometimes you give presentations about topics that are unfamiliar to the audience. Considering this, there's no need to make things complicated. By keeping things simple, you'll avoid confusing your audience.
Body language accounts for as much as 55% of our communication. Effective presenters try to control their bodies, gestures, and pose in order to make an impact on the audience.
Sometimes people don't like the way you present things or are not interested in the topic. However, rejection shouldn't affect your self-image. Effective presenters know how to deal with the stress of public speaking and manage their emotions.
Being self-aware means knowing your strengths and weaknesses. And this, in turn, helps you to use your strengths and work on improving your weaknesses.
A presenter plays the role of leader for the audience. Even if leadership isn't natural to your personality, acting as a leader will help you to manage the audience.
Your presentation should be centered on the audience, not on yourself. The main purpose of the presentation is to engage the audience. So, good presenters pay attention to the needs and preferences of the people listening to them.
Ending your speech doesn't mean that the presentation is also finished. The presentation is a bilateral process between the presenter and the audience. Therefore, you should listen actively to the audience in order to find out their reactions and opinions.
No one listens to your presentation for hours. Studies show that the optimal length of a presentation is 20 minutes. While a 10-minute presentation might be too short to deeply understand a topic, giving a speech for more than 20 minutes is too much as people lose interest and find it difficult to concentrate.
A good presenter is an expert on the topic he or she's speaking about. Doing deep research and finding statistics, facts, or examples about the main topic is important presentation skill.
Even though the majority of presentations aim to explain something to the audience and inspire them, presentations have plenty of different forms and purposes. Understanding the most common types of presentations across different industries is useful for organizing your information better and determining how to deliver your message to the audience.
Nowadays, there are six major types of presentations that differ from each other in structure and purpose. Before you begin preparing a presentation, get to know them and try to determine your presentation type:
Providing information
Teaching a skill
Reporting progress
Selling a product or service
Making a decision
Solving a problem
Informative presentations are the most common type. It's an educational, to-the-point presentation that aims to provide new information or updates to the audience. For instance, it could be public consultation meetings about an upcoming project in the company.
The main goal here is to share information instead of entertaining or inspiring the audience. Informative presentations often include a few educational slides on a slide sorter with short and on-point information. However, you can add presentation notes in order to help your audience better understand the topic and generate questions.
Teaching new skills during public meetings is especially frequent in companies. In this case, as well, a presenter is sharing information with the team. However, the purpose isn't only to share information but to instruct the audience on a particular topic.
The audience is attending the presentation in order to learn new skills and have a better understanding of the topic. Teaching new skills can take the form of training, workshops, or webinars.
On each occasion, the presenter offers specific instructions to help the audience use the new information in practice. Using techniques such as mind maps could be useful in the process of teaching new skills.
Reporting progress has a bit different structure than standard presentation structures. Each team leader or company leader wants to know how their team is working. Therefore, the practice of scheduling presentations about the team's progress is very common in the business industry.
Of course, the leader won't assess the individual strengths and weaknesses of team members, but they might point out important achievements or overall drawbacks. So, if you want to report the progress of a new campaign or project, don't forget to keep the outcome in mind and use as much informative visual information as possible.
Leaving time for questions is also important to make sure everyone understands the company's goals.
Selling a Product or Service
Selling a product or service via presentation is an integral part of marketing campaigns. Product sales presentations usually start with the introduction of the company and point out its main ideas and purposes. Then in the mid-presentation, a product or service is introduced to the audience. This type of presentation is a useful way to increase awareness about your product and attract potential customers.
Decision-making presentations are used when the company has a specific problem or problems that need to be discussed among the team members. In this case, the presentation points out the problem, includes existing reasons for the problem, and provides possible options for the solution.
This type is very similar to the previous one, but the difference is that during a solution-oriented presentation, the presenter and the audience work towards solving the problem during the presentation. Here as well, the problem is initially identified, and possible solutions and recommendations are discussed.
Training & Activities to Improve Presentation Skills
People often think that good presenters are born with presentation skills. However, presentation skills are learned abilities and have the potential to develop over time. Therefore, if you think that your presentation skills need to be improved, you can rely on the following tips to train your own skills and become a better presenter.
Presentation introduction – Introduction will determine your presenting flow, if it is bad it will decrease interest in your presentation and vice-versa.
Practice as much as possible – Rehearsing your presentation will help you overcome public-speaking anxiety and become more confident in the process of presenting.
Know your audience – Understand your audience's needs and learn as much about them as you can. This will help you choose the proper language and organize the information based on their needs.
Get ready for questions – Each presentation is accompanied by questions from the audience. Imagine possible questions and find the answers to them in advance. That way, you'll avoid confusion and feel more confident.
Consider feedback – Even if your last presentation wasn't a big success, it's useful. Consider the feedback from your audience and work on your weaknesses for future presentations.
What to Avoid During Presentation?
The main reason why people are afraid of presentations is that they fear negative feedback from the audience. And most of the time, they receive negative feedback because they aren't aware of the common mistakes people make while presenting. Here are some of the things that you should avoid doing during a presentation:
Don't be late – time is an essential factor for any type of audience. Being late will put the audience in a bad mood and make you feel more stressed.
Avoid technical issues – test your presentation before you start, and ensure you won't encounter any technical problems.
Don't read from the screen – it bores the audience because they can read from the screen too. The audience is expecting something that can't be found on the slides.
Don't go on and on – no one has enough time to listen to a never-ending presentation. Try to make your presentation shorter than 20 minutes.
Presentation Skills for Students
A presentation is an integral part of modern classrooms. Having presentations helps the students practice their language systems, improve public-speaking skills, learn how to find and organize information, create slides, and share information with the audience.
Therefore, developing presentation skills is very important in the developmental stage of students. Making a presentation is a great way for students to become more confident in themselves.
During the process of presentation preparation, they learn plenty of useful technical skills, and sometimes they even learn scientific presentation techniques that can be useful in their career development.
Developing presentation skills will help the students learn how to express their ideas clearly and become more creative. All these things pave the way to the future world of work.
Frequently Asked Questions About Presentation Skills
What are Basic Presentation Skills?
Presentation skills are a set of various types of competencies and abilities, but the basic ones among them are the following:
Transferring clear messages to the audience
Understanding the mindset of your audience
Engaging the audience
Organizing the information
Using body language effectively
Giving an enthusiastic speech
Answering questions
What are the elements of a powerful presentation?
Focus on the following key elements is what makes the presentation powerful:
Using eye-catching images to make a memorable presentation – the audience should visually remember the things you explained at the end of the presentation.
Focus on your target audience's needs – your attention should be focused on the questions your audience is looking for answers to.
Simple language and on-point answers – you should use simple language in order to avoid confusion and answer others' questions as directly as possible.
What is another term for self-concept?
Many terms are often used interchangeably with self-concept. The most accurate synonyms for self-concept would be self-construction, self-identity, self-structure, or self-beliefs. However, some people confuse different terms with self-concept.
Remember that there are key differences between self-image, self-esteem, and the ideal self when compared to self-concept. The latter 3 terms are all part of self-concept but are far more specific than one's general view/attitude toward themselves.
Take the first step to discovering the best version of yourself – identify your personal strengths
Start Today