Fancy becoming a dental assistant? The first step is to know all the dental assistant interview questions you can expect to be asked.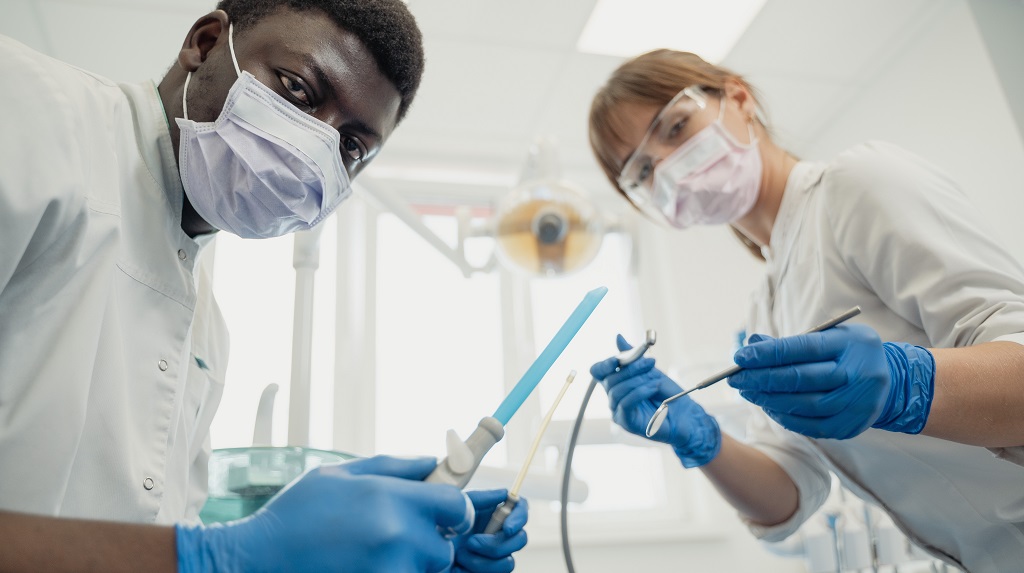 In this article, we'll cover the essential questions that are asked during dental assistant interviews, helping you to prepare and ace your interview.
What Are Employers And Hiring Managers Looking For When Interviewing People For A Dental Assistant Position?
Having the skills to provide excellent patient care is at the top of employers' lists when hiring a dental assistant. Some of these skills include the following.
Dental Certifications
The first and obvious skill employers look for is dental certification. You must have completed a training program or certificate to become a dental assistant.
Certification ensures that you have the knowledge and experience required to work with patients and perform the duties of a dental assistant.
Soft Skills
Hiring managers will also look for soft skills like communication, customer service, interpersonal skills, and empathy.
These essential traits help build relationships with patients who may feel anxious or uncomfortable during their appointment.
Communicating with them effectively makes their visit more enjoyable and less stressful.
Problem-Solving Skills
Dental assistants should possess problem-solving skills and the ability to handle complex procedures efficiently. This requires strong attention to detail and thinking on your feet.
Good problem-solving skills also help ensure that issues are solved quickly and correctly, which benefits the patient and the dental office.
Organization Skills
Organization is another critical skill employers will look for in potential dental assistant candidates.
This includes keeping track of patient records, supplies, and equipment, as well as understanding clinic procedures, regulations, and protocols.
Computer Skills
Computer literacy is an essential skill for any dental assistant position. Most clinics use computers to schedule appointments, manage patient files, and bill patients, so you must have basic computer knowledge and experience with relevant software.
Teamwork
Finally, employers will also be looking for a dental assistant who is comfortable working in a team environment.
This means having the ability to collaborate with other professionals, such as dentists, hygienists, and office staff, to ensure that appointments run smoothly and efficiently.
Strong teamwork skills can help create a positive work atmosphere while providing better patient service.
14 Dental Assistant Interview Questions and Sample Answers
Let's now review the various questions you might be asked during a dental assistant interview.
For each question, we'll cover why the question is essential to employers and provide a model answer to help you prepare.
1. Please Provide A Brief Overview Of Your Background, Experience, And Qualifications
Why this is important: Employers want to know how your experience fits the position and if you're a good fit.
Model Answer: I have been a certified dental assistant since 2018 and am experienced in patient care, record keeping, treatment plans, handling radiological equipment, sterilization techniques, and all other day-to-day functions. I have completed my certification program and earned a dental hygiene degree to enhance my professional skills further. Additionally, I am an active member of the American Dental Association and have experience working with patients of all ages. My passion for dentistry drives me to continue learning new techniques and staying up-to-date on industry trends. Overall, my education, experience, and dedication to the field make me an excellent fit for this position.
2. What Drives You To Seek A Position With This Organization?
Why this is important: Employers want to know what motivates you to join their team.
Model Answer: I am passionate about providing excellent patient care and believe your organization is committed to quality care and customer service. From my research, this organization values a positive work environment and supports its employees in their professional development. These qualities resonate with me, which is why I am excited about the prospect of joining your team.
3. What Level Of Expertise Do You Possess As A Dental Assistant?
Why this is important: Employers want to make sure you have the necessary skills for the job.
Model Answer: As an experienced dental assistant, I have developed strong technical skills in patient care, record keeping, treatment plans, handling radiological equipment, and sterilization techniques. In addition to my certification program, I have completed multiple courses to stay up-to-date on the latest industry trends and developments. My active membership in the American Dental Association and my studies of dental hygiene also supports my level of expertise.
4. In What Areas Do You Excel? 
Why this is important: Employers want to know what skills or strengths stand out for you.
Model Answer: One of my most vital qualities is learning new procedures and protocols quickly. I am comfortable using different software programs and electronic health records systems. Additionally, I have excellent interpersonal skills that help me build trust with patients and colleagues. I am also highly organized and dependable, which allows me to multitask efficiently and work well in team environments.
5. What Areas Do You Feel Present The Greatest Challenge For Growth And Development? 
Why this is important: Employers want to know your weaknesses to help you improve.
Model Answer: One area that I would like to develop further is my knowledge of clinical procedures. I am confident in my ability to perform basic tasks, but I am eager to learn more advanced techniques. Additionally, while I am familiar with standard software programs such as MS Office, there are some newer systems that I need to understand better. I aim to stay current with technological advances in the dental field and continue improving my professional skills.
6. Where Are Your Computer Skills At? 
Why this is important: Computers are an integral part of a Dental Assistant's job, so it is essential to have strong computer skills.
Model Answer: I am proficient in using various software programs such as MS Office, electronic health record systems, and specialized dental office management applications. In addition to this, I have experience creating digital records and documents, scheduling appointments online, and performing basic troubleshooting if needed.
7. As A Dental Assistant, What Measures Will You Take To Ensure All HIPAA Regulations Are Met?
Why this is important: HIPAA compliance is essential for all healthcare professionals, so employers must ensure you understand the regulations and have the necessary skills.
Model Answer: I understand the importance of HIPAA compliance and take it very seriously. I always ensure that patient confidentiality is maintained by securing physical records and documents as well as digital ones. Additionally, my practice is only to share patient information with people who are authorized to receive it.
8. Are You Proficient In Receptionist Duties And Adept At Communicating Over The Phone? 
Why this is important: Being able to handle customer inquiries, book appointments, and answer phones is essential to being a Dental Assistant.
Model Answer: Yes, I am confident in my abilities when it comes to handling administrative tasks such as appointment scheduling, filing paperwork, and answering customer inquiries. Additionally, I have excellent communication skills for both verbal and non-verbal interactions, which helps me maintain a professional yet friendly tone when speaking with patients or colleagues over the phone.
9. Are You Seasoned In Radiological Procedures (Capturing/Developing X-Rays)?
Why this is important: It is essential to demonstrate that you can adequately take and develop x-rays as part of your role as a Dental Assistant.
Model Answer: Yes, I am experienced in radiological procedures. I understand the importance of following safety protocols when capturing and processing x-rays and am familiar with digital radiography systems and traditional film development techniques.
10. Describe A Challenging Situation You Faced At Work And Explain How You Overcame It
Why this is important: Being able to handle difficult situations professionally and effectively demonstrates excellent problem-solving skills that employers highly value.
Model Answer: One time, I had a patient who was very anxious about their appointment, so much so that they were unwilling to cooperate and follow the dentist's instructions. To help ease their fears, I took the time to explain each step of the procedure in detail and answer any questions they had. My patience and understanding eventually led to them becoming more cooperative, allowing us to complete the appointment successfully.
11. How Can You Effectively Work With A Patient Who Is Anxious, Irritated, Or Unwilling To Cooperate?
Why this is important: Dental Assistants need to be able to handle complex patients professionally and effectively.
Model Answer: Working with an anxious or irritable patient can be challenging, but my approach is always professional and courteous. I understand that it can be difficult for patients to feel comfortable in a dental setting, so I take the time to explain each step of the appointment and answer any questions they have. Additionally, I remain calm and encouraging with my words and body language, which lets them know that they are safe and being taken care of. If needed, I also offer reassurance by providing additional information on the procedure or reminding them of any safety protocols we have in place. I can often help ease their anxiety and gain cooperation by taking these steps.
12. What Are The Aspects Of The Dental Assistant Role That Attract You Most?
Why this is important: This question helps identify your motivation and passion for the role.
Model Answer: I am most attracted to the Dental Assistant role for its variety, as one day I could be taking x-rays and another providing assistance to a hygienist during cleanings. Additionally, I love working with patients on individualized plans that help them reach their optimal oral health. Finally, providing comfort and relief when treating dental issues is rewarding and fulfilling.
13. Could You Share With Me What The Least Enjoyable Aspect Of The Dental Assistant Position Has Been For You?
Why this is important: Being honest about challenging aspects of your job shows employers that you're willing to be transparent and take ownership of any challenges you've faced.
Model Answer: The least enjoyable aspect of the Dental Assistant position for me has been the occasional difficult patient. While I always strive to provide a calm and welcoming atmosphere, some patients can be unwilling to follow instructions or cooperate. This can make it challenging to complete specific procedures, but over time I have developed strategies that help me navigate such situations more effectively.
14. Why Should We Choose You For This Dental Assistant Position?
Why this is important: This question allows you to highlight your qualifications, skills, and experience, which make you the best candidate for the job.
Model Answer: As a highly experienced Dental Assistant with over five years in the field, I would be an excellent choice for this position. In addition to my experience, I also have a passion for patient care and am dedicated to providing high-quality services. My natural ability to establish relationships with patients helps me create lasting bonds and ensures their individual needs are met. Finally, I understand the importance of staying up-to-date on procedures, techniques, and regulations within the dental industry and regularly attend continuing education courses. All these qualities make me a well-rounded candidate ready to hit the ground running.
Questions For You To Ask In A Dental Assistant Job Interview
Now that we've looked at potential questions you may be asked in a dental assistant job interview, knowing the questions to ask when the time comes is just as important. Here are some questions to consider asking during an interview.
What Timeline Are You Considering For Hiring A New Team Member?
Knowing the timeline for a potential hire gives you an idea of when to expect news about your application. This helps you plan and sets reasonable expectations.
Who Will Be My Supervisor?
Knowing who your supervisor is will allow you to research them, learn more about them, and better understand how they lead.
What Steps Do You Take To Ensure New Hires Have The Proper Training And Resources Needed For Success?
Understanding what kind of support and training is provided to new hires is essential to feel confident that you have the necessary tools and know-how to succeed in the role.
How Often Do You Conduct Performance Evaluations?
Asking about performance evaluations helps you understand how frequently your progress will be tracked and what skills and traits are valued most by management.
How Would You Characterize The Management Style Of This Unit?
This question can help you understand the environment that awaits you as a new hire. Will it be a highly collaborative team, or is it more individual-focused?
Understanding the expectations placed on each team member will help ensure you're comfortable in this role.
What Qualities, Qualifications, And Experience Make An Exceptional Applicant For This Role?
Understanding what makes a successful applicant will give you an insight into what skills, knowledge, and experience are necessary to succeed in this position.
It can also help guide your preparations if you apply for this job.
How To Prepare For A Dental Assistant Job Interview
Preparing for a dental assistant job interview can be a stressful experience, but it doesn't have to be. Researching the position and practicing your answers will help show employers that you're the right person for the job.
Here are a few tips on preparing for a successful dental assistant job interview.
First, ensure you thoroughly read the job description and understand the duties and responsibilities of the role. This will help you know what skills, qualities, and qualifications employers are looking for in an ideal applicant.
Additionally, research any specialized equipment or methods used by the employer so that you can come prepared with questions specific to them during your interview.
Next, take some time to review your resume and cover letter. Preparing any documents required before the interview is essential; this will show employers that you are serious about securing this position and have put thought into your application materials.
Also, be sure to bring extra copies of both documents in case they need them during the interview!
It's also important to familiarize yourself with industry-specific terminology and procedures before your interview. Awareness of relevant topics such as HIPAA regulations, sterilization techniques, insurance billing processes, patient care protocols, etc., can help demonstrate your knowledge in this field.
Doing so will also prepare you for any questions related to these topics that may arise during your conversation with recruiters or hiring managers.
Finally, practice describing yourself verbally using precise language during mock interviews with friends or family members.
This invaluable tool allows you to practice responding to common questions about yourself without feeling overwhelmed or intimidated by actual recruiters or hiring managers.
Rehearsing these answers ahead of time can help boost confidence on interview day!
STAR Method
The STAR method effectively answers interview questions for Situation, Task, Action, and Result.
This method encourages applicants to provide specific examples from past experiences that help demonstrate their skills and qualifications more tangibly.
When preparing to answer dental assistant-related interview questions using the STAR method, it's essential to focus on relevant scenarios that showcase your abilities as they relate to the job.
Situation: Start by describing the scenario – when was it, who was involved, and what was the context? Describe in detail any challenges or circumstances you faced.
For example, "I worked as a dental assistant at a busy practice where I had to manage multiple tasks often while also providing exceptional patient care."
Task: Briefly explain what specific task you were assigned or requested to complete. This could include any responsibilities you had, from scheduling to x-ray processing.
Action: Describe in detail the actions you took to accomplish the task. This allows recruiters and hiring managers to see evidence of your problem-solving skills and how you overcame any challenges during this process.
Result: Finally, outline the outcome of your efforts and discuss how it impacted the practice, patient care, etc.
For example, "My meticulous organization of patient records enabled us to provide better care more efficiently, which led to higher satisfaction ratings among our patients."
By utilizing these tips, applicants can prepare for their dental assistant job interview, demonstrating their knowledge and understanding of the role.
With an understanding of the STAR method, applicants can feel more confident in their abilities to answer questions related to this position and successfully secure a job.
Dental Assistant Interview Questions FAQs
What 5 Qualities Make A Good Dental Assistant?
Here are five qualities that make a good dental assistant:
Patience: An excellent dental assistant must be patient with patients and colleagues to provide the best care possible.
Attention to Detail: Attention to detail is essential for dental assistants, as they must accurately record patient information and follow instructions from dentists precisely.
Organizational Skills: Dental assistants must stay organized throughout their day to ensure that all tasks are completed on time and correctly.
Communication Skills: Good communication skills are necessary for a dental assistant who will work directly with patients and other staff members in a clinical setting.
Compassion: Compassion is essential for dental assistants to have empathy toward each patient's situation and provide them with the highest quality of care.
Conclusion
The dental assistant job interview process can be intimidating. Still, by preparing ahead of time using the tips and techniques discussed in this article, you can increase your chances of success.
Knowing the questions you may be asked and using the STAR method to answer them is a great way to demonstrate your qualifications for the job.
Additionally, a clear understanding of what qualities are expected of dental assistants can help ensure that you're prepared to impress recruiters or hiring managers.