The book StrengthsFinder 2.0 is one of the best resources to look at if you are interested in building up your strengths. Using a strength-based approach to self-improvement is essential for staying positive and achieving your goals in an efficient way.
You may be bombarded by a large number of strengths tests available online or in books. However, there are few resources that compare to the detailed, specific, and result-oriented book StrengthsFinder 2.0.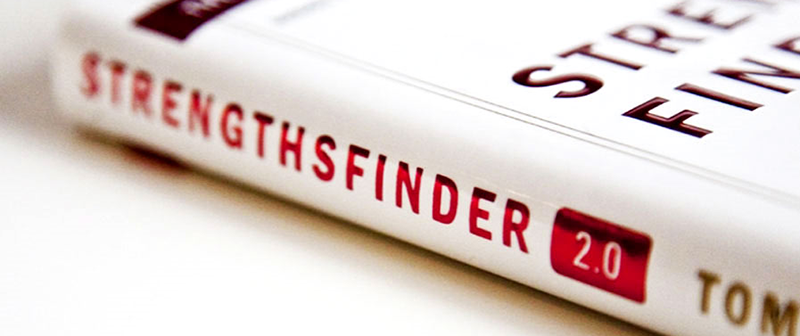 Image from: trainers-toolbox.com
For decades, Gallup (who publishes both the StrengthsFinder book and its accompanying test) has been a leader in creating strengths educational services.
In this article, we will cover the main points discussed in the StrengthsFinder book as well as the many benefits you get from reading it.
What is the book StrengthsFinder 2.0 About?
There are many different personality and psychology books for sale on the market. StrengthsFinder 2.0 is one of these books. What sets this Gallup published text apart from the rest of the crowd is that this book solely focuses on helping you find and utilize your strengths.
You will not be bombarded with suggestions regarding your weaknesses, as this often dampens confidence and decreases motivation.
The StrengthsFinder book encourages you to use a positive psychology and strength-oriented approach to self-improvement instead. Before you can start using a strength-based approach, you need to understand what your strengths are.
They will help you first discover your strengths, through exercises in the book and an accompanying online assessment.
From there, the CliftonStrengths assessment will teach you about applying your strengths in the real world. You will learn about how your strengths can improve your career prospects, how strengths can contribute to your relationships, and so much more.
You will be given tips on how to use your strengths to achieve your goals and set goals that are achievable while still being challenging.
If you have goals or aspirations of becoming a leader, reading this book is a must. There, you will learn to unlock your top strengths to benefit your entire team and help you stand out from competing leaders.
Benefits
There are many benefits that come along with reading the StrengthsFinder book. Think of reading this text as an investment into your future. If you do this, many new doors of opportunities will open. This is due to the fact that knowing your strengths can help you stand out in job interviews and on the job.
In addition to this, knowing your strengths is especially important for those who want to become leaders.
Leaders need to know how to leverage their strengths for the betterment of their team. This test can assist you in discovering your top communication and leadership abilities.
Even more benefits include the boost in confidence you acquire from learning about your strengths, and your ability to achieve more goals due to greater strength clarity.
The vast number of benefits you acquire from buying and learning from the StrengthsFinder 2.0 book cannot be understated.
What's included inside the book StrengthsFinder 2.0?
We have previously highlighted the many benefits that come along with taking the StrengthsFinder test and buying the StrengthsFinder 2.0 book.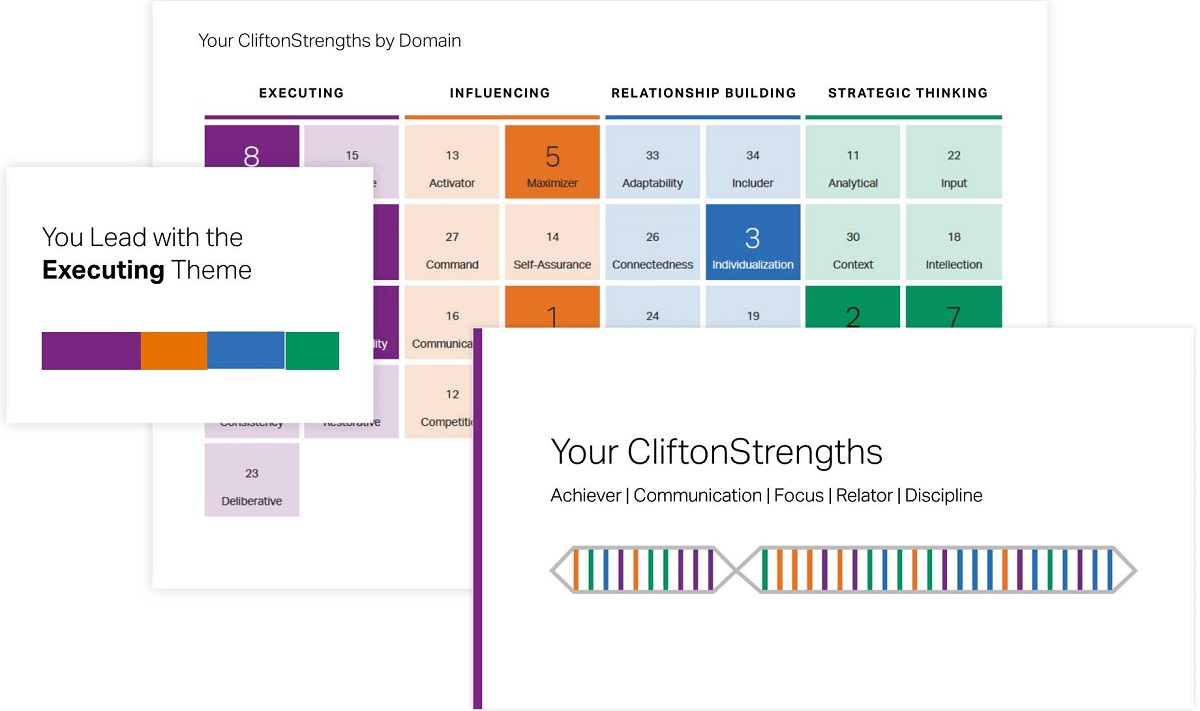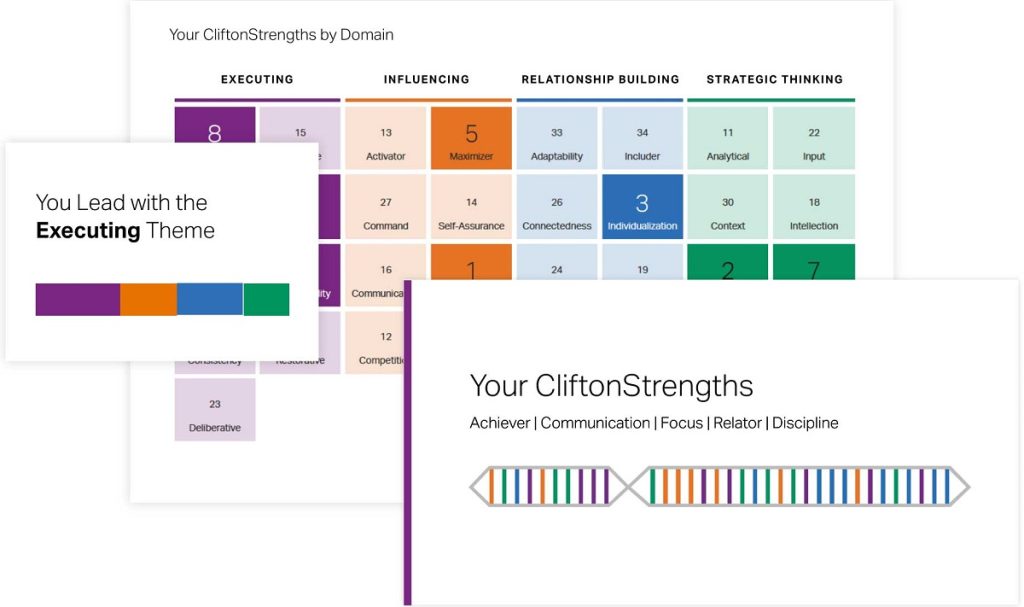 However, to truly make sure your purchase is worth the cost, you need to be aware of all the goodies Gallup includes along with the book.
The most obvious item you will get is the book itself. While that in and of itself is likely worth the price tag, there are numerous other items you can get alongside your physical StrengthsFinder 2.0 copy.
Keep in mind that you could also acquire the book through an e-book. One other item you can acquire outside of the book itself is a personal report on your 34 strengths. Some more details on this opportunity discussed below.
Access Codes
If you purchase a StrengthsFinder book (or any other strengths-related book, such as CliftonStrengths for Students), you will also receive an access code from Gallup. With these access codes, you can take an online assessment to determine your top strengths. These access codes are unique to you. So, you and your colleagues will not risk having your results confused.
You might be wondering: what can these access codes be used for? The main use for these access codes is accessing the StrengthsFinder test. This assessment is one of the most popular Gallup strengths tests. There are a plethora of benefits that come along with taking this assessment.
For instance, if you read the StrengthsFinder 2.0 book, you will be given suggestions for how to find your strengths. If you want a shortcut, and have a relatively non-biased test quantify your strengths for you, then the StrengthsFinder test would be extremely beneficial.
If you decide to take the StrengthsFinder with your access code, you can feel more confident in understanding your strengths. It adds an extra level of individual strengths evaluation on top of what you learn from the StrengthsFinder book. This can further boost your confidence and help you implement new strategies for using your strengths.
How will I receive my CliftonStrengths assessment access code?
Once you decide to purchase the book and take the strengths test, you will most likely begin anticipating your results. It is one of the most exciting parts of the strengths discovery process, after all. Gallup ensures that finding your strengths is as easy as possible.
Before taking the test, you will receive your CliftonStrengths access code through the book you purchase. If you look at the back of the book, you will find a sealed container. Your unique access code will be inside the sealed container.
Alongside your access code will be a set of steps you should take to activate the test. It is important to keep in mind that you will not receive your access code digitally. Therefore, any emails sent to you with an access code are likely phishing emails.
Once you activate your access code and finish the test, you should be able to see your results. They will be displayed immediately. With your results, you should see a ranking of your top 5 strengths.
You will be given descriptions of these strengths and some tips on how you can improve these abilities. A total of 34 strengths will be tested for, but you will see your top 5 for simpler results.
What is the difference between the books StrengthsFinder 2.0 and CliftonStrengths for Students?
Gallup has produced a number of extremely popular and insightful assessments over the decades. Two of their most highly praised tests have been the CliftonStrengths assessment and the CliftonStrengths for Students test.
These tests have a number of similarities between them. For starters, they both encourage individuals to use a strengths-based approach to problem-solving.
This is based on the ideas of positive psychology. In essence, if you focus on your strengths, you will learn how to grow without feeling down or bringing in a negative mindset.
This is opposed to the weakness-based personal development strategy, where people focus on fixing their flaws. Neither the CliftonStrengths for Students test nor the CliftonStrengths test has weaknesses discussed in them.
Plus, both tests have books associated with them, they follow a similar question style, and both are given through the same organization. They are even both based on the same psychologist's research (Dr. Donald O. Clifton).
However, numerous key differences exist between these assessments. Most crucially, the CliftonStrengths for Students test is specifically designed for students. Individuals who are in schools classified as 'students' have unique needs from the general population.
They generally need more guidance and are often not sure of what they want to accomplish in life. Many of them are younger and have never experimented with careers at all.
If you are not a student, then it is best to take the StrengthsFinder 2.0 assessment. This test covers a wide variety of strengths. Its results can be applied to broad populations, from highly experienced executives to new employees.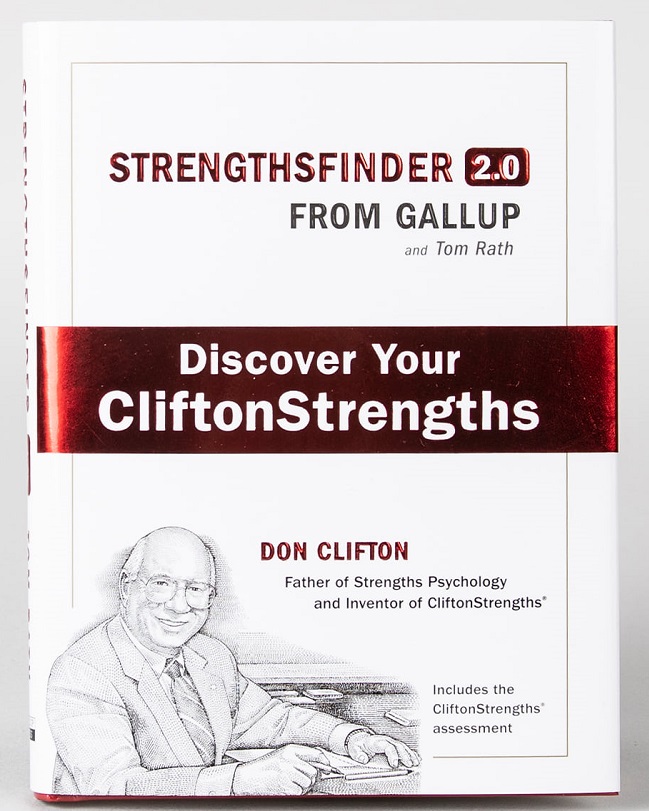 Other books from Gallup
Gallup has been a leader in the strengths-based education field for decades now. They have a history of creating highly detailed and useful assessments, even getting expert advice from the renowned psychologist Dr. Donald O. Clifton.
Many of the company's tests are named after him to honor the late psychologist. Just a few of the tests offered by Gallup are:
CliftonStrengths for Students
If you are a student who wants to master their strengths, boost efficiency, achieve as much as you can, and build strong relationships, knowing how to utilize a strengths-based approach is a must.
One of the best ways to learn about this unique approach to personal development is through reading the CliftonStrengths for Students book. In this text, you can find out how to discover your strengths as a student.
You will be given tips for using these strengths during school and in your early career. You will also be given assistance on how to choose a career path based on the strengths you have,
Strengths Based Parenting
Every parent is trying to constantly improve themselves. They strive for perfection, and there is a good reason why: their job as a parent directly influences the rest of their child's life. Therefore, it is crucial for you to use your parental strengths to not just your advantage, but also to your child's advantage.
If you know what your strengths are and how to use them, you will help your child learn more, build stronger bonds with them, and establish a trusting relationship for the long term. All of these are topics discussed in Gallup's Strengths Based Parenting book.
Strengths Based Leadership
As a leader, your conduct directly influences the rest of your team. If you set a bad example by not pursuing personal growth goals, your team will likely not achieve their own goals, either. You can inspire your team and become a better leader by recognizing your strengths.
This can be done by reading Gallup's Strengths Based Leadership book. By reading this book, you can help your team unlock their strengths so everyone is more motivated and passionate. Plus, knowing your strengths will also help you become more efficient as a leader.
CliftonStrengths Resource Guide
The CliftonStrengths Resource Guide is a comprehensive text which covers a plethora of information on strength-based development. This book will cover each of the 34 strengths that Gallup tests individuals for in greater detail.
You will learn about how these strengths can be applied to a day to day living, their uses in your career, and how these strengths can be used to benefit your relationship, among even more topics.
Reading this book will help you understand your unique strengths and recognize the strengths of others as well.
It will help you become more confident, a better leader, and a better team player all at the same time.